Moderator's Appeal East Africa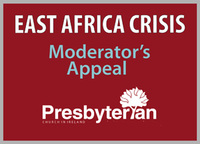 Millions are suffering acute starvation and many are dying each week because of the severe drought in the region.

Two consecutive seasons of poor rainfall have resulted in crop failures, livestock deaths and a massive increase in food prices. More than 10 million people are now affected - mostly in Kenya, South Sudan, Somalia and Ethiopia.

The current drought, the worst since the 1950's, has given rise to a severe food crisis with thousands facing starvation, disease and death.

Well over a thousand people every day, faced by drought in Southern Somalia, are attempting to reach Dadaab in Northern Kenya, now the world's largest refugee camp with more than 350,000 people. Many of those arriving in the camp are acutely malnourished children, and a growing number are dying day by day.

In East Africa as a whole, more than 11 million people are threatened with starvation by the worst drought to hit the region in more than 60 years.

In Somalia, the situation is accentuated by internal conflict, and by the higher cost of food due to the ongoing global economic crisis.

The worst affected regions are Southern Ethiopia, and war torn Southern Somalia, where the UN has declared famine in a number of areas.

Significant areas of South Sudan and parts of Northern Kenya are also facing an increasingly critical situation.