History of the Church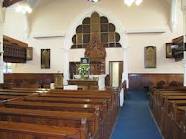 Cullybackey is located four miles north-west of Ballymena, in the parish of Craigs, barony of Lower Toome, County Antrim, and is situated on the River Maine. The present Presbyterian church (1881) is the most impressive building on the Main Street, located at a corner between the river and the Shellinghill Road. There is a tradition that a forge for the manufacture of spades stood on the site in earlier times. According to some sources, this activity gave rise to the name Cullybackey, which William Reeves, the rector of Ballymena and a noted antiquary, translated as "the corner of the cripple, or the corner of the spades". Dr. Buick (minister, 1868-1904) preferred the latter suggestion. This could be corroborated by the finding of slag ore when sinking the foundations for the present church. Other possibilites are "angle or corner of the river bend" or "the woodland of the cripple or beggar".

Today the area assigned to the Cullybackey congregation runs from the junction of the Cardonaghy Road and Grenagh Road, north-west along Grenagh Road to Duneoin Road to Dunminning Road, to Ballywatermoy Road. From there, south-east along Ballywatermoy Road to Tullygrawley cross, then along Tullygrawley Road to Crankill, south along Crankill Road to Woodtown Road, then west along Woodtown Road to Sand Road to Galgorm, north-west along Fenaghy Road to Bridge End, west across the bridge, north-west along Corbally Road to Cardonaghy Road and back again to Grenagh Road.